منوعات تقنية
The Buying Guide for the Sword Buff in Your Life
موقع شبرون للتقنية والأخبار- متابعات تقنية:

I can't help but imagine the words "study the blade" spoken in the most nasally, pre-teen voice possible, but when Gizmodo asked staff what kinds of gift guides they were interested in writing this year, I couldn't help myself. I'm using this opportunity for those who want to study the blade to, ahem, do just that.
The Hunger Games Director Francis Lawrence on Adapting a Prequel
I've been training with a group of fine folks in Historical European Martial Arts, or HEMA, for about two and a half years. They're an eclectic bunch. As you can expect, most are nerds who play some variety of Dungeons & Dragons or any other number of tabletop RPGs. Several are medieval history buffs, others are the more athletic types who enjoy the exercise, and some just like to hang out with friends and swing swords.
So yes, there are any number of reasons to get into European swordsmanship. What's important to note is the folks who are making actual quality training weapons aren't selling their wares on Amazon or Etsy. There are small blacksmithing shops all over the world crafting quality training weapons or actual sharp steel. But I'm not here to tell you how to hurt people. I'm here to help you learn, or at least learn how to start to teach yourself.
There are ways to train without a sword. A broom handle suffices to learn the basics of cutting. French single stick with a plastic cup for hand protection is a legitimate historical way of training for saber. Try and find a club near you to learn from folks who have been training for years, or otherwise grab a book and a friend, then try and parse out the techniques yourselves.
Otherwise, this list offers what is the limited gear the burgeoning sword person in your life might need for training. Once you start sparring with steel, at minimum you need a fencing mask, hard plastic fencing gloves, a padded jacked (best rated at 800 N of force protection for heavier swords), knee pads, and shin pads. It's also a good idea to get forearm and elbow protection, and of course, you'll need the anatomically appropriate protection for the groin or chest.
Looking for more gift ideas? Check out all of Gizmodo's 2023 gift guides.
Hema Bookshelf's Fencing Manuals
Why we like it: There are some absolutely fantastic resources online for those looking into European swordsmanship. The Wiktenauer site contains scans and English translations of innumerable historical manuscripts for the beginning fencer to learn directly from the masters. But what if you want something a little bit more tangible? HEMA Bookshelf has a great library of both hardcover and softcover books for you to peruse. There are manuscripts for Italian and German fencing contexts (look at The Flower of Battle and Alte Armatur und Ringkunst, respectively, the latter priced here), but look around and you'll find interpretations from everything from Spanish rapier to British military saber.
Price: $40 for the main Alte Armatur und Ringkunst book and $40 for the companion Where to buy: Amazon
Absolute Force Basic Hema Mask
Why we like it: If you've ever seen an Olympic fencer, you've seen these sorts of mesh helmets. These specific masks are rated for sword fighting, and they are rated 350 newtons of force (that doesn't mean if you get hit hard enough you won't have a concussion, mind you). The Absolute Force basic mask is a good price for a starter helmet. An important note is it does not have back-of-the-head protection, which if using anything more than a padded sword I would strongly suggest you get.
Price: $80 Where to buy: Absolute Force site
Artificial Leather Rapier Gloves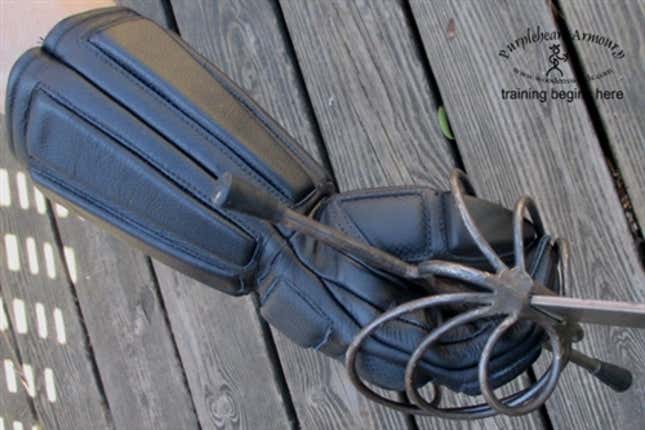 Why we like it: Lacrosse gloves are okay to start, but once you start using anything harder than foam you'll want something stiffer to protect your digits. The safest option when fencing with real steel is full-on hard-shelled lobster-style gloves. To start, you do want a certain amount of finger dexterity, which is why I suggest these artificial leather gloves with inset kevlar around the sensitive joints. These are great options for those just starting out, and they offer good protection save a good hit with a steel sword.
Price: $49 Where to buy: Purpleheart Armoury (for the U.S.)
Harrow Probot Shin Guard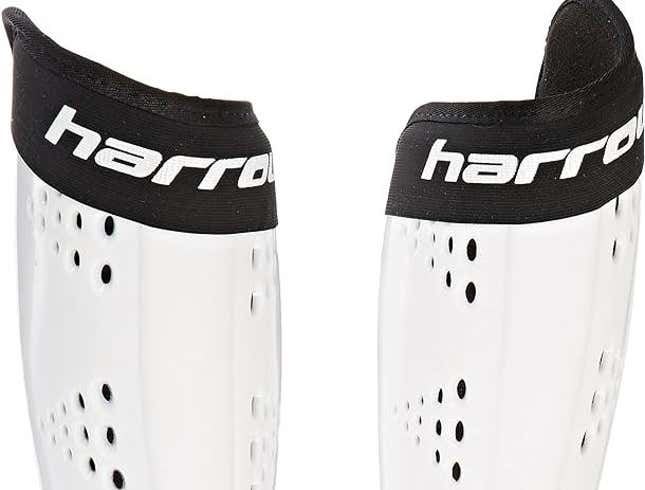 Why we like it: Harrow's shin guards are perhaps one of the best, and cheapest, shin protection for those who expect to get hit with a hard object right on the tibia. You'll need some sort of long sock to keep them in place, but otherwise, they fit snug and wrap around most of the shin for added protection. Combine it with our next pick for the best lower leg protection.
Price: $25 Where to buy: Amazon
KneePro Ultra Flex III Knee Pads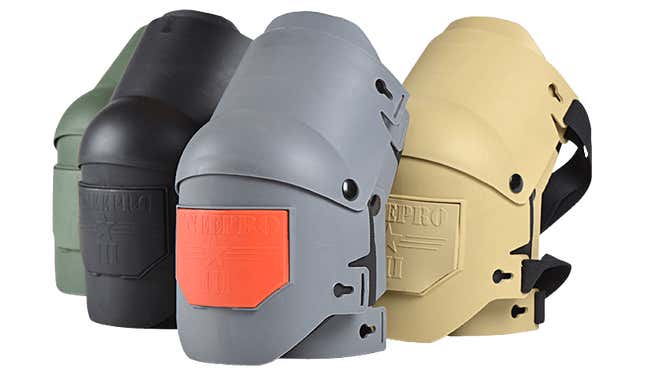 Why we like it: What's not to love about articulating knee pads? The KneePro offers a wealth of protection not just directly on the knee, but slightly below and above it. They stay on no matter how much you kick or gyrate, making them extra safe. Plus, they're damn useful for folks with knee pain who need to get on all fours for household chores.
Price: $38 Where to buy: Amazon
Go-Now Padded Swords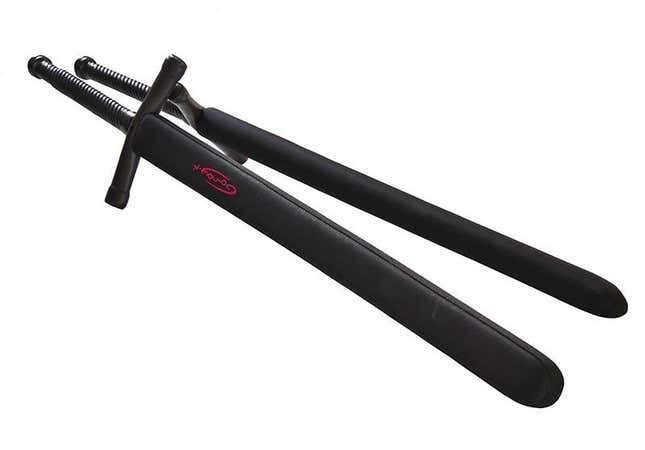 Why we like it: Before you get a sword, you should start with something that won't hurt you or your friends. Sure, you can go grab a Nerf sword and swing away, but you probably want something with more heft. First, you need to know what kind of weapon you want to train with. There are few companies making swords that are heavy enough to not feel like lightsabers but light enough not to bludgeon your furniture. I've personally enjoyed the Go-Now brand of swords and their padding. If you're going with a longsword, there are a few products that are flat on two sides, meaning you can actually practice good edge alignment without putting tape on two ends of the sword.
Price: $67 Where to buy: Purpleheart Armoury (for the U.S.)
Aku Strike Mimic T-16 Training Knife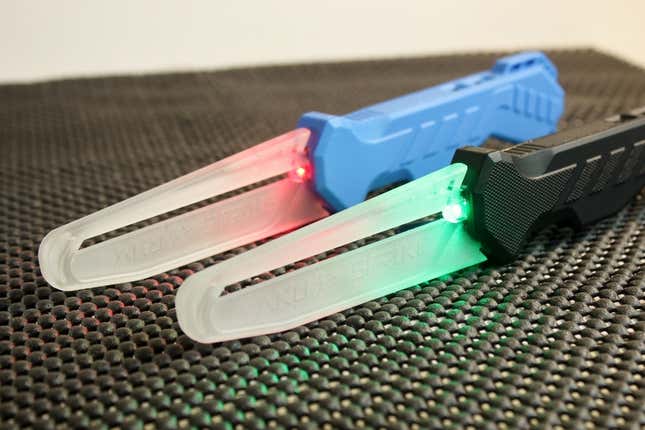 Why we like it: Let's say you're looking for something and you're just looking to train. These Aku Strike knives are cleverly designed to light up and make a noise not just when you hit, but when you hit the target with the "blade side." I've used these in a HEMA context, and I've seen these in more contemporary knife defense contexts. They're durable enough to survive multiple hits, but I would still suggest wearing protective gear in any sparring context.
Price: $53 Where to buy: Aku Strike
Medieval Double Wrap Belt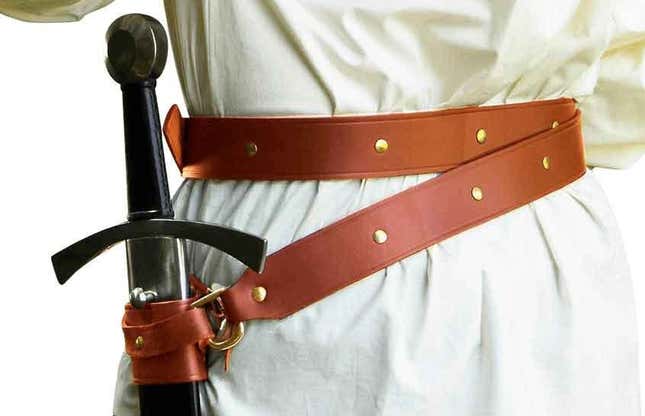 Why we like it: I'm sure there are already some readers screaming at me for not including any actual steel swords in this list. Well, at least I can offer you a fancy way to show off your weapon if you have one at the nearest Renaissance faire (just remember to peace tie your steel). This sword belt includes a frog that can fit most scabbards or naked steel if you don't have one.
Price: $52 Where to buy: Medieval Collectibles
Tilly Wool Cloak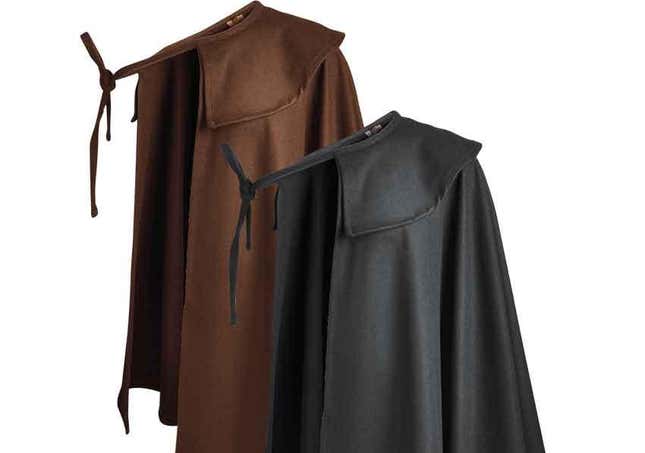 If there's something more stylish than a shoulder cloak, then I don't know what it is. If you're looking at this cloak and immediately thinking back to Assassin's Creed II, then yes, that's exactly the look you'd be going for. But there's more to this cloak than mere flair. There are multiple historical treatises that detail fighting with a cloak in the offhand. Simply take it off and wrap it around your hand and forearm. Suddenly, you have a makeshift shield that can parry cuts and thrusts. These particular cloaks are made of wool, which makes them extra durable.
Price: $90 Where to buy: Medieval Collectibles
How Much Does a Quality Sword Actually Cost?
If you're not fully satisfied with training equipment, and you're still wondering why the hell I haven't brought up steel swords, it's because there's a huge variety of makers, prices, and quality. They don't often match up, and that can be a huge hassle for anybody who wants to buy steel.
There are so many smaller shops in the U.S. and elsewhere in the world, and I'm not a professional sword reviewer, so I don't have the wherewithal to make recommendations. However, I can offer a few places if you want to start looking. I put all the safety equipment upfront, so everything after this point is just a non-inclusive rundown of where you can source good swords in the U.S. specifically. There are many, many quality swordmakers all over the world, but that list would get a bit long. Also know that if you buy now, you may not get it shipped in time for Christmas depending on what these sources already have pre-built.
Albion
Albion is renowned as one of the best sharp sword makers for a reason. They handle about as well as they look, plus they have a line of museum reproductions. These are also some of the most expensive items on this list, with some swords costing thousands or even tens of thousands of dollars.
Where to buy: Albion
Castille Armory
These West Coast swordmakers have been in the game for decades, and they bring a wealth of experience making build-your-own training blades. They provide everything from longswords to rapiers to side swords and beyond. The more detailed blade you want to get, the more expensive it will be. I've used several Castille blades, and I've always come away impressed.
Where to buy: Castille Armory
Krieger Armory
This Indiana-based smith is relatively new to the HEMA community, but they've already built up a reputation for quality training swords (otherwise known as feders). I personally use a Krieger "Arbiter" feder as my go-to for longsword, and I've yet to be disappointed after two years of use.
Where to buy: Krieger Armory
Darkwood Armory
These folks have been supplying the SCA (Society of Creative Anachronism) and HEMA worlds for years, and they're mostly known for their practice rapiers. However, they also have a selection of build-your-own daggers, sabers, basket-hilt swords, and more.
Where to buy: Darkwood Armory